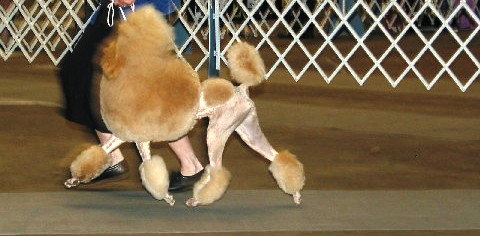 Conformation is how a dog is put together.  Breeders breed to the breed standard to produce conformity. Beagles we expect to have long ears, Chihuahuas we expect to be tiny,  Great Danes are large dogs with upright ears. There is much more that goes into each individual dog breeds' standard. Poodles we expect to have curly hair, hanging ears and a certain body type. Poodle owners expect their poodle to look and act like a poodle. The breed standard for standard poodles describes not only about how a dog is put together but also the dog's temperament.
When looking for a dog to show you need to know more to evaluate a puppy's potential. Considerations when choosing a puppy to show:
A breeder with proven quality show dogs.

A mentor to guide you along the way.

A poodle with the correct temperament.

A poodle with the best conformation that you can find.

A poodle puppy  from health tested parents.

A poodle you love and have a connection to.
Shoulder lay back, proportions, depth of chest can all be confusing terms. An article from the Canine Chronicle has an in depth explanation of the breed standard. Poodle hair can hide a lot of faults and you will need to put your hands on the dog to evaluate it. Videos of movement and photos can help in your evaluation. There is rarely a poodle close to perfection and they all have their strengths and weaknesses.  Mr. Wendell Sammet of the famed Ale Kai Standard Poodles guides you through the Canine Chronicle explanation of the breed standard and what to look for in a poodle. Canine Chronicle Article.  A poodle that conforms to the majority of it's breed standard is said to have good conformation.