Grooming products we recommend for standard and miniature poodles.
Grooming Table(s)
You only need one table: you can use a picnic table, your kitchen table, or any sturdy surface. Some people prefer to groom on the floor and older dogs that get tired from standing may appreciate you sitting on the floor with them.  Either of these grooming tables work well and both have folding legs for easy storage.
The blue one is made by Flying Pig and has a 44" x 24" surface and comes with a grooming arm and a shelf. The shelf works great for holding your dryer or clippers.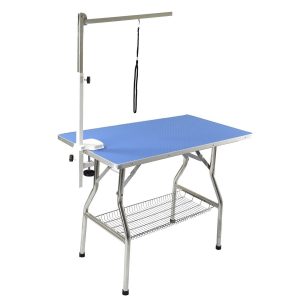 The black one is a smaller table at 36" x 24" that we purchased from Pet Edge and have been using for 20 years. Its good for poodles under 45 lbs. Our larger poodles are more comfortable on the bigger table.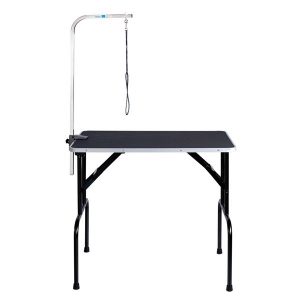 NEVER leave a dog on a grooming table alone, NEVER leave a grooming noose on a dog and walk away, NEVER allow your dog to slip off the table and hang itself with the noose. It is your job to make sure your dog is safe. Train your dog to stand in the middle of the table or lay on its side. Grooming arms are to help you to teach your puppy/dog to stay on the table. Once your poodle is trained you no longer will need the arm. NEVER allow your dog to jump off the table. When a dog is wet and slippery jumping and sliding on the floor may cause them to injure themselves. We lift all of our poodles off the table so they never learn to jump off.
Brushes and Combs
This is a #1 All systems slicker brush. The large size is relatively small but it's great for short hair and line brushing. It can be purchased through Amazon and a few other online stores.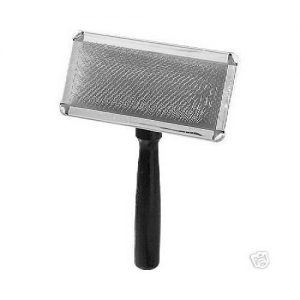 The much larger Chris Christensen Big K Slicker is designed for long hair. When brushing a poodle with long hair you need to part the hair and brush one section at a time to ensure you are brushing all the way to the skin.  Chris Christensen products can be purchased through Cherrybrook.com.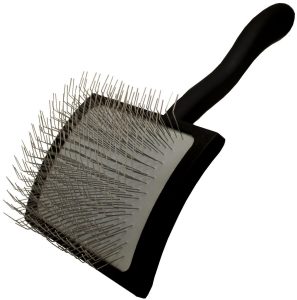 I prefer a comb with an 80/20 split in wide teeth versus long ones, a long comb either 10 or 12 inches that feels balanced in my hand.  These can be found at The Groomers Mall online.
Clippers and Blades
We like Andis products as they last a long time, have two speeds, and are easy to repair.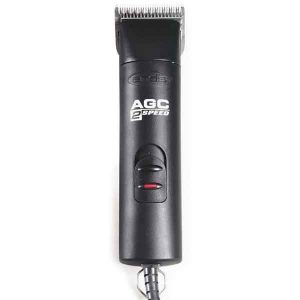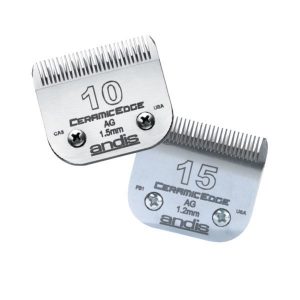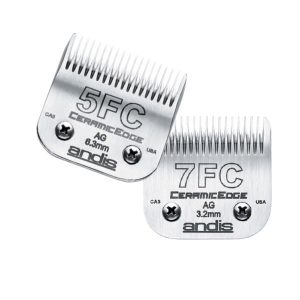 When you are learning to groom your poodle a #10 blade is best for a short face, feet, tail, and the sanitary area. #10 blades are often included with the purchase of a new clipper. Once you are comfortable grooming you may wish to use a #15 blade which leaves the hair a little shorter and makes the grooming last a little longer. We use a #4 blade on the body for everyday clips. Some people prefer a #5 blade or a #7 blade for giving bodies a shorter clip, we prefer a #4 blade because it leaves them with a little more fluff.  The bigger the blade number the shorter the haircut. General rule when grooming - if you can't see it don't cut it. Which means if you want to trim under a dog's leg you need to lift the leg so you can see the arm pits and soft tissue which are easy to cut. You also need to gently spread the toes in order to trim between them so you don't cut the webbing.
Dryer
We have two Air Force Command Dryers in case one breaks in the middle of drying a poodle. Our original dryer has never had a problem and is now 14 years old and going strong. We use the Metro Air Force Groomers 3rd arm. The arm clamps onto the grooming table and holds the dryer hose, leaving me with two free hands to brush my poodles while they are drying. The arm is somewhat stiff in order to hold the dryer hose. Someone who does not have enough arm/hand strength may find it difficult to use. I dry the majority of the dog in the tub before moving them to the grooming table to finish. Use caution with a high force dryer as they can damage eyes and ears. Often it is necessary to use a smaller personal dryer for the head and ears.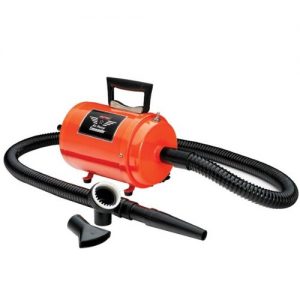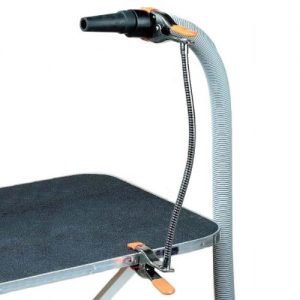 Nail Clippers, Dremels and Kwik Stop
Small and economical, these Millers Forge nail clippers are sharp. We use them on both our puppies and adults. Kwik Stop is handy to have around in case you accidentally cut the nails too short. Kwik Stop helps the blood to clot and stops bleeding. You can often find Kwik Stop in the shaving department at your local pharmacy or at your pet store. Make sure you get it in the form of a powder, not a stick.  We also use a Dremel that easily grinds the nail down. Dremels take a little time for dogs to get used too. We have found the poodles are much more sensitive about their front feet than back feet. Start with the back feet to build your confidence and theirs too.
We find the ideal length for a nail is even with the foot pad or slightly shorter, don't forget to trim the dew claws. The number one cause of toe or nail injury is due to long nails.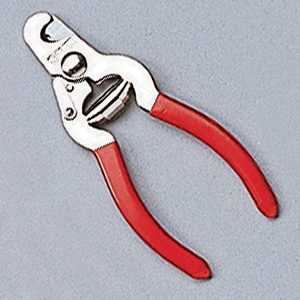 Dog Grooming Scissors
If you are only going to buy one pair of scissors, my favorite is The Heritage Stilleto 10 inch curved scissors. They are easy to use on the body, legs, top knot and tail. They are also available in a straight blade.
The curved blade helps to make those gently rounded shapes and it comes with the Heritage Lifetime Guarantee and Lifetime Free Sharpening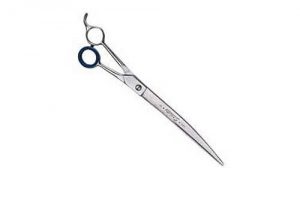 Shampoo
Purchase it concentrated by the gallon and dilute as recommended. We purchase tear-less shampoo for the ears and face which are often marketed as facial shampoo. We use diluted white vinegar to remove urine and other odors. You can mix vinegar (10 parts water to 1 part vinegar) in a spray bottle and spray on legs (do not get into eyes or ears) then let it soak in while bathing your dog,  shampoo and rinse. Dog shampoo doesn't lather like human shampoo, we dilute ours with warm water in a clean used dish soap bottle which makes it easier to handle.
Ear Cleaner and Maintenance
NEVER use a cleaner or treatment on an ear that is perforated without the advice of your veterinarian. ALWAYS have ears evaluated by a veterinarian before starting any treatment. If your dogs ear is painful contact your veterinarian for some pain relief.
Zymox is recommended for use in inflamed and infected ears. Easily purchased at pet stores and online.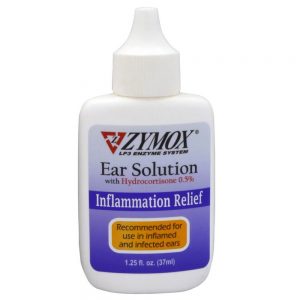 Where to purchase grooming supplies. We shop around.
  Recently we purchased the flying pig grooming table, the grooming arm and
an Air Force Command Dryer on Amazon. They had the best price including shipping and the items were in stock.
www.Groomersmart.com had the very best prices on Heritage Scissors and their customer service is fantastic.
Give them a call and they can give you recommendations. They have more items in stock than shown on their website.
You can check with Chewy, Groomers Choice, The Groomers Mall, Tractor Supply and your local pet stores.
(we are not paid or receive any compensation by any company)